Before I get to the main event of UFC 147, I'd like to start by addressing last night's Clay Guida-Gray Maynard fight and Dana White's comments afterwards that the fight "sucked". I, for one, am a supporter of White's frank manner of speaking, but this is one occasion where I think he might have been influenced by the unsatisfied Atlantic City crowd. The fight wasn't a classic by any means, but there were elements of it that were fascinating.
Nobody should be surprised that Guida chose to employ a strategy of perpetual movement. Standing in front of the heavy handed Maynard would have been suicide. Maynard had also shown a limited gas tank in the two Edgar bouts, so it made sense for Guida to make this an endurance contest. His strategy was not all that different from that of Carlos Condit in his fight against Nick Diaz and Condit walked out of that encounter as the interim Welterweight Champion. The difference is that Guida is not as good a striker as Condit and it showed. While Condit was able to skillfully counter a stalking Diaz, racking up points with short punches and leg kicks, Guida struggled to string together anything meaningful. Still, he was doing a fantastic job of frustrating Maynard and he took at least two of the first three rounds. Even my friend Gary, a non-MMA fan, thought it looked like Guida was getting the better of the bout. Then again, we were both mesmerized by Guida's hectic style. A lot of people complain that fighters all look the same these days, but nobody fights quite like Clay Guida.
Artist's rendition of Clay Guida at UFC on FX 4.
Unfortunately, Guida couldn't maintain that pace for five rounds. He wasn't tired, but maintaining the concentration and rhythm required to consistently score points against a more aggressive opponent is extraordinarily difficult as evidenced by Guida straight up running away at one point. Referee Dan Miragliotta was right to admonish him as that kind of action is akin to a verbal submission. It's one thing to fight like Condit, where he forced Diaz to compete on his terms; it's another to seem like you don't want to compete at all.
*****
One should never use message boards as any sort of reasonable gauge, but I do browse through comments attached to news stories. I wasn't surprised in the slightest when I saw the reaction to Rich Franklin stepping in as an injury replacement to face Wanderlei Silva: ridicule and apathy. The most common complaint was that "this fight doesn't matter", which got me thinking about what it is that does make a fight matter.
The most obvious draw for any fan is the title fight. The stakes could not be clearer: Whoever wins this fight is the best in the world. It works for the hardcore fans that have followed the contenders as they separate themselves from the pack and it works for casual fans who immediately understand that the fight is important because two grown men are fighting over a shiny piece of metal that they get to wrap around their waist.
Then there are the rankings. Rankings in are essentially like the standings in any other sport, only there's no hard math to justify putting one fighter over another. In some ways, it's more just because the only real way to move up is to beat the guys ahead of you. It sounds simple, but there's also this degree of subjectivity that comes with it (both amongst the matchmakers and the fans) and as such, you're never going to please everyone. Regardless, the rankings provide valuable context.
Two top ten guys are fighting? I'm there!
Two top twenty guys are fighting? Should be good.
Two top thirty guys are fighting? I'll read the results on Twitter.
A top five guy is fighting an unranked opponent? Huh?
So where does that put Franklin and Silva? Neither of them are anywhere near a title shot, despite them both being former champs in the UFC and PRIDE respectively. They already fought once before and even though it was a good match, it was a clear cut decision victory for Franklin. It also doesn't help that everyone knows that this was supposed to be Vitor Belfort facing Silva in a rematch that people, especially the Brazilian fans, actually were looking forward to. Tack on the fact that both gentlemen are in the twilight of their careers and it seems hard to justify this as anything but filler.
UFC 147 is not a PPV worthy card. The main event was changed, the next biggest fight involves a great, but unpopular heavyweight in Mike Russow and the rest of the card is filled with the cast members of The Ultimate Fighter: Brazil, who are no-names in the western world.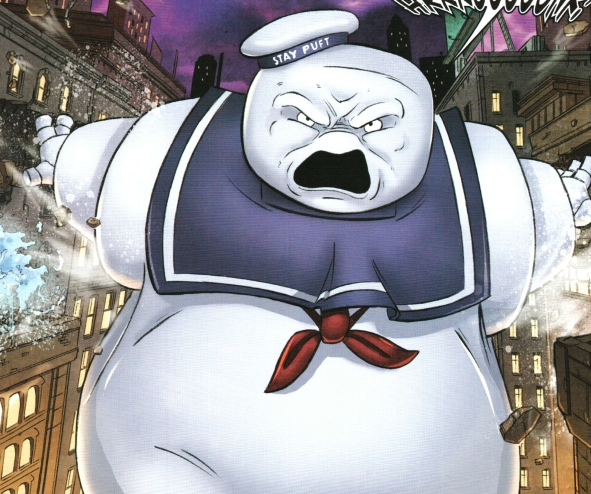 Artist's rendition of Mike Russow at Friday's weigh-ins.
I actually think the action on the card is going to outstanding, but let's call this what it is: It's a TUF Finale that we're being asked to pay for. That's absurd. I know that this card was long ago booked to include the rematch between Chael Sonnen and Anderson Silva and I can't say I have an in-depth understanding of the PPV biz, so reclassifying this might have been impossible, but that doesn't change the fact that this kind of card is normally free. It's a shame too because I feel like the TUF Finale is normally a huge opportunity for the show winners to start building their fan bases, especially for these Brazilian contestants who might struggle connecting through the language barrier. As it stands, a lot of fans are going to skip this card and building up these Brazilian TUF winners in North America is going to be a much tougher task.
Here's how I look at it though: Every fight matters. This is going to be a bit flowery, but bear with me. What's on the line tonight? Two fighters are looking to add to their considerable legacies. If Franklin wins, he becomes the only man who can claim to hold two victories over The Axe Murderer. If Silva wins, he avenges his loss and can add another all-time great to his already impressive list of conquests.
Crowns and heads of conquered kings: Arona, Kondo, Bisping, Tamura, Kanehara, Rampage, Cung Le, Mezger, Sakuraba, Rampage again…
It's another paycheck. It's another step towards Franklin being able to retire while still remembering how to calculate a cosine. It's going to help put his kids through college. It's going to allow Silva to afford better training facilities for his underprivileged students. It might put gloves and pads on the next Wanderlei Silva. It's another chance to show that you can make a living doing what you love, even if what you love involves pounding another man's face into hamburger meat. It's a whole lot of dollars and a whole lot of cents.
Most importantly, the fight represents how sports and martial arts in particular can bring together people from such different walks of life to strive for the same goal. Franklin is known for being that guy with the funny face, a teacher. Silva came up through the military, saved from a life of street brawling. Both came up fighting for almost no money. There's Franklin, yearning to break the monotony of suburban life and Silva, born and bred for combat since day one. America. Brazil. Think about the circumstances required for two individuals to encounter each other once, much less twice. We should appreciate these things.
Money. Legacy. Family. The thrill of victory. The agony of defeat. Those are the stakes and I dare anyone to tell Rich Franklin or Wanderlei Silva that these things don't matter.
*****
Picks and some commentary for UFC 147 (my picks in bold). I'll be using the aliases of the fighters used on the show because they're shorter and Brazilian nicknames are awesome.
Featherweight Bout: Felipe Arantes v. Milton Vieira
- the over/under on how many times it's mentioned that Vieira invented the anaconda choke: 3 ½.  Take the over
Featherweight Bout: Vina v. Galeto
- these were two of the most emotional fighters on what was already an incredibly emotional TUF: Brazil cast so expect the tears to flow freely after this one
Middleweight Bout: Macarrao v. Thiago Bodao
- before anyone starts with the Charlie Villanueva cracks, know that Bodao beat cancer as a child and that's why he has no eyebrows
Featherweight Bout: John Macapa v. Hugo Wolverine
- Macapa looked great on the show, but he missed weight and I have no problem siding with the always cheery Wolverine
Middleweight Bout: Massaranduba v. Pe de Chumbo
- Massaranduba is actually one of the top lightweight fighters in Brazil who bulked up so that he could be included in TUF: Brazil. I guess his nickname is Portuguese for "Kenny Florian"…
Featherweight Bout: Rodrigo Damm v. Gasparzinho
- …and Gasparzinho is Portuguese for "Josh Koscheck". He wasn't that bad, but he was definitely the "class clown" of the show and Damm didn't take too kindly to it. Damm has the big show experience making him the easy pick, but Gasparzinho is a dangerous young fighter
Featherweight Bout: Yuri Alcantara v. Hacran Dias
- Alcantara is on a thirteen fight win streak. Dias is on an eight fight win streak. They have a combined record of 48 wins and 4 losses with 1 draw. Something has to give
- mark my words: One of these guys, not even the winner necessarily, is going to challenge for featherweight gold some day
Heavyweight Bout: Fabricio Werdum v. Mike Russow
- despite my juvenile cracks, I actually think Russow is due for a step up in competition and he gets a top five guy in Werdum. Russow is tough, but I don't think there's one area in which he has the advantage other than his wrestling and Werdum has a killer guard. Look for Werdum to parley this into a coaching gig opposite Junior dos Santos for TUF: Brazil season two
Featherweight Bout: Pepey v. Rony Jason
- this is to determine the TUF: Brazil Featherweight Division winner
- Rony Jason came in to the competition as a heavy favourite and he has lived up to the hype. He's shown excellent all-around skills and competitiveness, going as far as to nearly snap Gasparzinho's arm in their quarterfinal bout. Just so you know, Gasparzinho and Jason are training partners who lived together for two years. That's playing to win, right there
Middleweight Bout: Cezar Mutante v. Serginho
- this is to determine the TUF: Brazil Middleweight Division winner (Serginho is replacing injured finalist Daniel Sarafian)
- Serginho is a heavy underdog here and rightfully so. He's a wiz on the mat, but it's unlikely that he'll be able to force the action there and if he stands with Mutante he's dead. I like the guy a lot (according to the subtitles, he jokingly called himself a "bitch" after subbing his opponent to get into the house), but Mutante is a beast and barring any bizarre miscues he's taking this one
Catchweight (190 lb.) Bout: Rich Franklin v. Wanderlei Silva
- I want to pick Wandy here, but I believe his chin has only degraded further since their first encounter and Ace still packs a lot of punch. Even if Franklin can't finish him, I don't see enough improvement from Silva to warrant a different outcome
And remember, if you take one thing away from the first international edition of The Ultimate Fighter let it be this:
Those are great names!