For sports nerds, there are two subjects that always come up when evaluating an athlete: One, pertinent statistics and two, how much money does this guy make?  An athlete's salary is fascinating for a number of reasons.  Is a player worth what he's getting paid?  How much is his contract potentially hurting my team's chances to succeed?  What kind of lifestyle does this person have?  A few digits on a piece of paper have a dramatic effect on our perception of a human being.
The physicality of mixed martial arts provides some resistance against this kind of scrutiny.  As long as someone isn't making Mayweather money, even the biggest critics of athlete compensation would be hard pressed to call someone overpaid when their job description includes "getting the piss beaten out of them".  Even at the highest levels, fighter income can seem absurdly low, assuring fans that the competitors they're watching are truly doing it for the proverbial love of the game.  The problem is that MMA is frequently touted as the fastest growing sport in the world.  So what is proper compensation for a UFC fighter?
The second fastest growing sport.
 There are many things to consider beyond wins and losses.  I want to analyze the salaries for every future UFC card as the information is made available (some commissions choose not to disclose this information) in an attempt to better understand the sometimes bewildering accounting of combat sports.  Let's take a look at a selection of payouts from UFC 145:
(source: MMAJunkie.com)
Total payroll: $1, 241, 000
The Breakdown
Starting at the top with the biggest earners…
Jon Jones – $400,000 (no win bonus)
Rashad Evans – $300,000
The standard fighter payout is broken down into show money and a win bonus.  You get paid just for stepping into the cage and winning the fight doubles your salary.  Once you get to the main event, the win bonus is usually a little different.  Jon Jones doesn't have one (he's guaranteed a larger show fee) and Rashad Evans' is modified ($225,000 to show, $185,000 to win at UFC 114, May 29, 2010).
More importantly, Jones and Evans' are both entitled to a cut of the pay-per-view profits.  To provide some reference, Alistair Overeem made $2 per PPV buy for his fight against Brock Lesnar.  Lesnar himself was rumoured to make at least $5 per buy.  That event did about 800,000 buys, meaning that made an extra 1.6 million and Lesnar an extra 4 million.
How did Jones and Evans do?  I don't have exact numbers, but there are some safe assumptions we can make here.  Overeem is an established international star so it's understandable that the UFC would have to open up the wallet to get him.  Jones is not a proven PPV draw, but I have to think he'd be similarly valued.  As a main eventer (UFC 128 v. Shogun Rua, UFC 135 v. Rampage Jackson, UFC 140 v. Lyoto Machida) he's produced strong, but unspectacular returns (around 400,000 to 500,000).  That said, the UFC is heavily invested in him and I'd be amazed if he wasn't also making at least $4 per buy, possibly more.
Evans is a proven PPV draw as he has been in the main event of three pay per views that topped 950,000 buys (UFC 92 v. Forrest Griffin, UFC 98 v. Lyoto Machida, UFC 114 v. Rampage Jackson).  However, even after winning the title back in '08, it's unlikely that he had the contract leverage that an established name like Lesnar would have.  Let's say he's due about $4 per buy.
According to MMAMania, UFC 145 did around 700,000 buys.  That's over 2 million dollars in PPV bonuses for Messieurs Bones and Suga.  Evans and Jones undoubtedly benefited from the UFC's recent sabbatical and their deeply personal feud.  Still, that's a great number and the UFC should feel good about Jones as their leading man if he's going to be bringing in those numbers on a regular basis.
One more thing to consider is that Dana White has stated on several occasions that there are always undisclosed discretionary bonuses paid out to the fighters.  He's been known to reward exciting undercard fights, so I'm sure he takes care of his marquee talents as well.  Add in sponsorships, and a conservative estimate would be that both fighters cashed in around the $3,000,000 dollar mark.  That's about ten times their reported salary.
On the flip side…
Chris Clements – $12,000 (includes $6,000 win bonus)
Keith Wisniewski – $10,000
It should be mentioned that there were a ton of Canadian fighters on this card as it was originally scheduled to take place in Montreal.  Clements hails from Chatham, Ontario.
Even taking into account the aforementioned discretionary bonuses and sponsors and the fact that the UFC handles most of the accommodations and medical considerations, $12,000 is not a large chunk of change.  Let's not forget that the fighter has to pay their manager, training staff and that a lot of these men have families to take care of.  Swingin' bachelors like myself might think ten grand for a night's work sounds pretty good, but it's really not much in the grand scheme of things.  Clements would have only made $6,000 if he hadn't won.  Now that's fighting out of passion.
$6,000 for 15 minutes of work?  I'm RICH, BITCH!
 How about those Ultimate Fighter winners…
Mac Danzig – $54,000 (includes $27,000 win bonus)
Efrain Escudero – $10,000
Danzig was the TUF 6 Welterweight Division winner.  Escudero was the TUF 8 Lightweight Division winner.  The Ultimate Fighter prize works like this:
Three year contract
Three fights a year
Only the

first year

is guaranteed
Year one salary (show/win): 12K/12K
Year two salary: 16K/16K
Year three salary: 22K/22K
This was actually Escudero's second fight since returning from a 2010 release.  Thus, his base salary is akin to that of a fighter making their UFC debut.  The Ultimate Fighter is not a guaranteed path to fame and riches.
Danzig, despite having a middling record (5-5 in the UFC after Saturday), has carved a nice niche for himself as a considerable challenge for any opponent.  UFC 145 marked Danzig's tenth fight with the UFC, meaning he just passed the nine fight mark on his original contract.  While I'm sure he's renegotiated before, it's still an impressive milestone.  Congratulations, Little Mac.
Ben Rothwell – $104,000 (includes $52,000 win bonus)
Brendan Schaub – $14,000
Coming in with the third highest pay, "Big" Ben Rothwell!  This has to be surprising considering that your average MMA fan has no idea who Rothwell is.  Throw in the fact that he earned the Knockout of the Night ($65,000) and he made off with a couple hundred grand for about a minute of work.  How does someone with a 2-2 UFC record pull that off?
Heavyweights are always going to be the highest earners.  Just like NBA centers, quality size is hard to come by.  You might be able to find a legion of tall, chubby dudes out there, but it's hard as hell to find one who can move without tripping over his own ankle fat much less compete in a high level martial arts contest.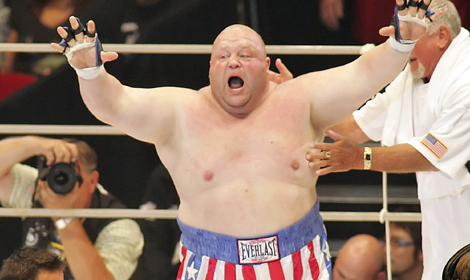 I got nothing but love for the immortal Butterbean.
Rothwell actually entered the UFC with considerable hype, having competed in the ill-fated but respectable International Fight League.  He also fought Andrei Arlovski at the first Affliction event.  Both the IFL and Affliction had to hand out bloated contracts to convince talent to sign with them instead of the UFC, which is how Rothwell ended up getting $250,000 to face Arlovski (who got $750,000!).  He actually took a pay cut under Zuffa employment!
One last tidbit: Big Ben had a higher base salary than fellow heavyweight Travis Browne (undefeated in five UFC contests), Miguel Torres (former no. 1 ranked bantamweight) and Mark Hominick (one half of the main event of UFC 127) combined.  Speaking of Browne…
Travis Browne – $24,000 (includes $12,000 win bonus)
Chad Griggs – $27,000
Yep, Griggs made more money than his opponent by getting subbed in two and a half minutes.  (Browne won the Submission of the Night bonus, but that ruins the gag).  It might seem unfair, but Griggs was a holdover from Strikeforce (yet another organization forced to overpay its roster) and Zuffa has to honour that contract.  Hopefully, they won't hold this drubbing against him at his next performance review.